STE is one of the major international systems integrator of Airport Information and Communications Technology solutions with capabilities encompassing the whole life cycle of an Airport project.
Drop-Off
STE has developed an innovative and easy to use system allowing passengers to autonomously manage its baggage check-in a very short time, thus avoiding queuing and delays.
This system to a user friendly interface, can be All-in-One, but also divided into two subsystems, Two Steps: the kiosk Bag Tag for printing baggage tags and the kiosk All in One, to make boarding, working together as a single self-service system that can be interfaced with any exiting balance.
Kiosk All in One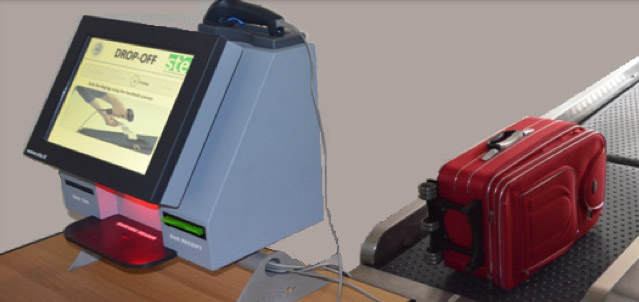 Kiosk Drop-Off has been optimized in term of dimensions, easy to be integrated in the airport facilities (Retrofit), friendly to use for airport organizations, handling, carriers and for the passengers.
The passengers will follows, step by step, the procedure displayed on the monitor.   Printed bag tag and perform weight and dimension check, if match with parameters provided by the company, the baggage will be boarded, and a ticket well be printed.
Sistema Drop-Off Two-Steps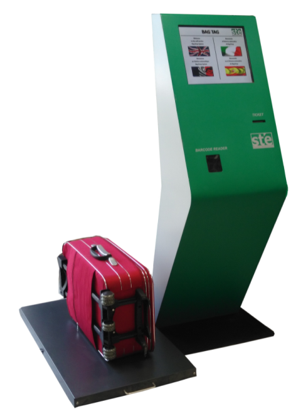 The system is composed by two subsystems, Kiosk Bag tag and Kiosk All in One.
The two step solution allows to separate the two moments: "production of BagTag" and "boarding Baggage", allowing a reduction in the time needed at the point of release of the baggage.
The number of kiosks of the two types may be decided in function of the characteristics of the airport.
MAIN FUNCTIONALITIES:
Drop-Off system All-In-One or divided into two subsystems: Kiosk Bag Tag and Kiosk All in One (two steps)
Bag Drop management system up to 2 pieces per passenger
Dimensions control X,Y,Z (optional)
Weight control
Photos of each checked bag and stored on the DB for any subsequent checks
Friendly and Multilanguage user interface
Multi Host connection
Remote Backoffice system management
Complete system monitoring with alarms via SMS and e-mail
Adaptation of rules for any individual flight and airline, es: per way, per class, ecc.