STE is committed to territory sustainability, for the preservation of primary resources, and to protection of environment by providing integrated solutions to monitor Territorial and Hydro geological changes and to detect different kinds of pollution.
The company provides Geo-Portals and Geographic Information Systems (GIS) based on robust ITC infrastructures hosting information coming from a mix of sensors (cameras, LIDAR, spectrometers, magnetometer and others), installed on satellites, airplanes, helicopters or drones.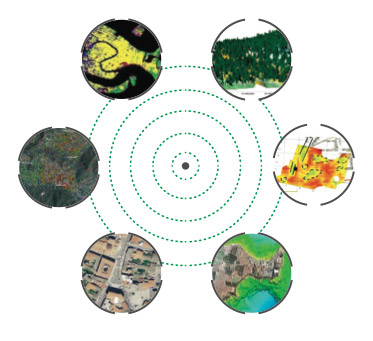 In this field STE has been largely contributing to the Italian National Geo-portal, the focal point for territorial and environmental data towards INSPIRE (Infrastructure for Spatial Information in the European Community).
The portal manages information coming from different sources and publishes Metadata and Service Catalogs.
Identification of potentially polluted sites, through observations (from aircraft, helo or drone) and geo-physical investigations, is another area of expertise of STE.
Data are collected, analysed and integrated with cartography to provide coordinates, of the supposed polluted locations, to investigation systems,
of the concerned authority, for relevant actions.
STE provides large integrated systems for monitoring and controlling protected marine areas from illegal activities.
The systems includes a Supervisory Control Room, Area Centres and Local Unmanned Stations.