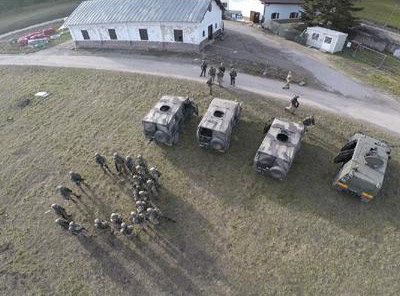 The Italian Army, compelled by the new operational scenarios and consequent need for modernization of operational and technical training, has been investing for some years in innovative technological solutions, especially in the light of recent terroristic attacks. These solutions include systems based on live, virtual and constructive simulation techniques.
In fact, thanks to the growing power of hardware, simulation systems offer a greater match with reality, allowing to effectively train staff and analyze their reactions even when facing extreme conditions, found only in the operating theater.
But what does "Military Simulation" mean?
Simulation means: creation of a model. The more or less faithful imitation (dependent on the quality) of a real system: allowing to assess and predict the unfolding of events arising from the presence of certain conditions difficult to reproduce in real environments.
In the military, there are different types of simulation:
LIVE – when real subjects act in real environments with real instruments but simulated effects;
VIRTUAL – when real subjects act in simulated environments with simulated instruments;
CONSTRUCTIVE – when simulated subjects operate in simulated environments with simulated instruments.
We can proudly say that this new modernization and efficiency improvement activity is signed by STE S.p.A., a completely Italian company with decades of experience in the field of ITC and Cyber ​​Security. For several years, STE has also been operating in the field of Training & Simulation, providing Administration's Defense capabilities of System Integrators in the realization of a set of live type training systems and platforms for virtual applications, using exclusive partnerships with some of the world's biggest players in the industry such as Cubic Global Defense and Bohemia Interactive Simulation.
In this context, STE has provided an innovative C-IED Training System (Counter Improvised Explosive Device) for the training and education of staff in contrast to the IED threat (Improvised Explosive Device) in safe and highly realistic environment. This is certainly a big step forward because terror 3.0 is often in this form this major danger.
IEDs in fact represent, in most cases, the primary weapon for anyone who carries out guerrilla actions or terroristic attacks, allowing to counteract with great effect well-armed and equipped departments, focusing on the psychological effect that these have on the military.
Soldiers are often lead to a state of deep distress due to the constant presence of an invisible and changing threat they know they can't always cope with. This force them to constantly work under high levels of tension doubting anyone, any object or animal is put in their path.
Simulations also aim to practice first-aid massive actions and civil emergency operations in densely populated areas, such as the urban fabric
In light of recent cuts in military spending it is fair to say that the new technology center built by STE will surely lead to a high cost savings in terms of logistic movements, men transporting and also ammunition.
Considering recent military spending cuts, it is fair to say that STE's new Technology Center will surely guarantee high cost saving in terms of logistic movements, men transporting and ammunition.
The beating heart of the first and innovative Italian CTC center (Combat Training Center) is located in the training area of ​​San Giorgio in Brunico: here exercises and tactics are monitored in real time by analysts via live video feeds. Simulations include both the 2D format on the geo-referenced map of the training area and the 3D one using the so-called avatars and video streaming provided by cameras installed throughout the area. With this system, instructors may also remotely intervene during exercises modifying for example training scenarios with the introduction of new possible threats.
"We are particularly proud to have contributed to the creation of this Center," says the CEO of STE S.p.A., Emanuele Burali d'Arezzo, "especially for the techniques and cutting-edge technologies we used which place it as a true flagship for the Armed Forces, leading the way for a safer, more efficient and effective training."
Rome July 18, 2016
STE S.p.A.
Marco Del Bo +39 335 262226marco.delbo.pr@gmail.com
SOURCE: LIBERO-QUOTIDIANO
SOURCE: ADNKRONOS