STE is one of the major international systems integrator of Airport Information and Communications Technology solutions with capabilities encompassing the whole life cycle of an Airport project.
Pax Check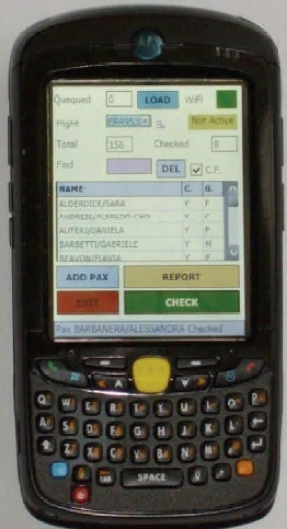 It's a system that can help airport personnel in verifying the presence of departing passengers at the airport with valid documents, verifying the number of passengers who must depart, divided by gender and providing several security features that the airport needs through real‐time data on departing passengers.
The system can operate from various verification places, typically:
Prior to the entry in the security zone
During boarding at the plane side, to count and verify the passengers who are at that moment embarking, when gate IT facilities are not used or nonexistent
Any other place deemed sensitive.
MAIN FUNCTIONALITIES:
Show on the PDA the Passengers list and their total number, for every flight
Control Flight/Pax – Flight/Data
Count of all Paxes Checked
Manual Pax search, if the Barcode 2D is not read
Use of the PDA even in the event of a temporary lack of Wifi connection
Issue a statistical report to complete each flight